PLEASE, SUBSCRIBE TO MY YOUTUBE CHANNEL!!
HASH.GUIDE brings you a video talk through on how to change the rate of your deployed token crowdsale that has been created using Oracles.org ICO Wizard while having the "Allow Modifying" Checkbox checked.
There are multiple methods to manage the ICO Wizard crowdsales and this is the first in the series of talk throughs. This method controls how much Ether pays for your crypto coins. It is measured by 1 ETH, so if the rate entered is 100 then you will receive 100 tokens for 1 ETH. This video will show you how to use metamask ethereum wallet to send a transaction to the FlatPricingExt contract to change that rate.
Good reason to allow this modification on your ICO is so you can have multiple price levels as if it was a Pre-ICO and TokenSale or a different bonus amount every day if you would like because this is cheaper then launching a crowdsale with 2, 3, 4 or 5 tiers for multiple different price levels. All required info to change the rate and other parameters in your crowdsale can be found on the ICO Wizards Github Wiki.
https://github.com/oraclesorg/ico-wizard/wiki/
BITCOIN DEBIT VISA CARD
WireXApp – Buy or Sell Bitcoin and obtain Virtual BTC Debit Card and sign up with this link and get 25% off $17 for a Plastic Bitcoin Debit card which automatically exchanges BTC into USD at the time of purchase to use anywhere VISA is accepted.
https://goo.gl/51TmHB
Summary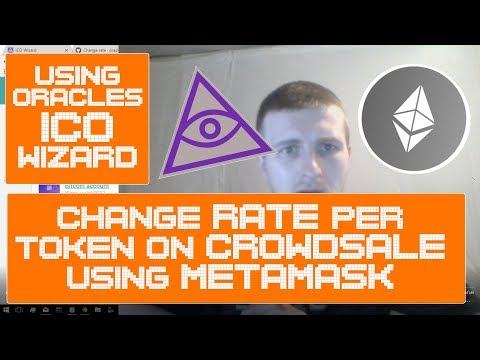 Title
MANAGE ICO Deployed from Oracles ICO Wizard How-to Change Rate of ETH per Tokens
Description
PLEASE, SUBSCRIBE TO MY YOUTUBE CHANNEL!! HASH.GUIDE brings you a video talk through on how to change the rate of your deployed token crowdsale that has been created using Oracles.org ICO Wizard while having the "Allow Modifying" Checkbox checked. There are multiple methods to manage the ICO Wizard crowdsales and this is the first in the series of talk throughs. This method controls how much Ether pays for your crypto coins. It is measured by 1 ETH, so if the rate entered is 100 then you will receive 100 tokens for 1 ETH. This video will show you how to use metamask ethereum wallet to send a transaction to the FlatPricingExt contract to change that rate. Good reason to allow this modification on your ICO is so you can have multiple price levels as if it was a Pre-ICO and TokenSale or a different bonus amount every day if you would like because this is cheaper then launching a crowdsale with 2, 3, 4 or 5 tiers for multiple different price levels. All required info to change the rate and other parameters in your crowdsale can be found on the ICO Wizards Github Wiki. https://github.com/oraclesorg/ico-wizard/wiki/